Da' Kine Grinds
Hawaiian Garlic Shrimp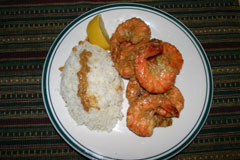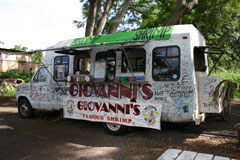 This recipe was inspired by a recent trip to the North Shore. We traveled up through Haleiwa and had to stop at the famous, mouth watering, shrimp trucks for some lunch. My hat is off to the folks at Giovanni's Famous Shrimp… their Aloha Shrimp is No Ka Oi! Below is my attempt at recreating that delicious plate lunch. The crew here at JonesBrand is still jonesin' for the real, authentic thing. Send us the recipe and we'll make it worth your while.
Mahalo!
1 1/4 pounds White Shrimp, deveined (heads on okay, U-15's if you can get 'em)
4 tablespoons extra virgin olive oil (+ 3 teaspoons, hold on… you'll see)
4 tablespoons butter, salted
3 heads fresh garlic
2 lemons (Myer lemons add a nice sweetness to balance the acidity)
1/2 teaspoon course Hawaiian sea salt
1/2 teaspoon fresh cracked pepper
1/8 teaspoon smoked paprika
1/4 cup white wine (try to avoid really dry wines for this recipe)
Roasted Garlic
Start by cutting the tops off two heads of garlic to expose the cloves beneath the paper. Drizzle with two teaspoons of olive oil and roast at 400 F for approximately 35 minutes, or until soft. When cool, squeeze out that sweet, garlicky goodness into a small bowl. Mash and mix with a teaspoon of olive oil. Set aside.
Getting Your Shrimp On
Again, start with the remaining head of garlic, mincing approximately 8-10 cloves (or heck, all of it if you like). Heat one large 12" skillet over medium-low. Add the 4 tablespoons olive oil, 2 tablespoons butter, and minced raw garlic. Sautee the garlic, low and slow, until softened and caramelized. Then add the wine, roasted garlic, salt, pepper, paprika, remaining butter, and the juice of one lemon. Continue to cook on med-low until the sauce develops. Carefully add the shrimp, preferably in one layer in the pan, and turn the heat to medium cooking the shrimp for 3 to 5 minutes. Once the shells have turned that lovely pinkish orange color, it's time to flip. Turn the shrimp over and cook for another 2 to 3 minutes. Turn off the heat and allow the carry over heat of the sauce to finish the shrimp. Do not over cook or the delicate shrimp will get tough and rubbery. Although, frankly, an old leather shoe covered in garlic sauce would still be edible in my book. Toss and stir shrimp as often as desired to coat with garlic sauce. Serve with two scoops white rice (garlic sauce on top of course), lemon wedge, and maybe throw in a pineapple slice.
Note: For those of you that aren't into the shrimp, you can throw a jumbo hotdog down into the garlic sauce. Yeah, you know who you are.
Ambiance (optional)
1 can black spray paint
1 dozen assorted permanent markers
1 dozen assorted foreign tourists
2 gallons, unsalted Aloha spirit
You know what to do next. Go ahead, your Mom won't mind. If she does, that just means she never really loved you, or perhaps you're adopted.